Instructional tool for teaching comparative neuroanatomy (e.g. of hippocampi) requiring only a computer.  This module gives students practice using statistical techniques such as regression analyses, covariance, and ANOVA.  It is available for free and includes a student tutorial.
The coronal brain sections used in this module came from the following sources:
The pedagogical aspects of this module were created by Dr. William Grisham at UCLA.
The tutorial was created by Natalie Schottler.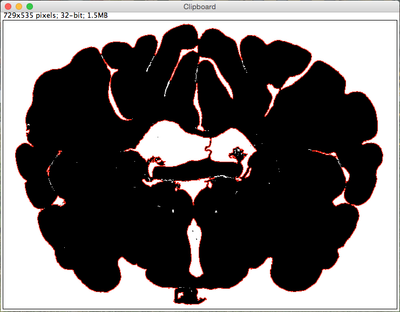 Download Files
Students and Faculty can download the Comparative Neuroanatomy image database and tutorial for free.
(01)  Download CNA Image Database
In order to access the image database, you must first fill out the User Consent/Download Questionnaire (after which you will be directed to the download button).  Note that you will still be allowed to download the image database even if you choose NOT to consent to anything.
Most of images in this module were derived from the Comparative Mammalian Brain Collections, an online resource created from a collaborative effort by the University of Wisconsin, Michigan State University, and the National Museum of Health and Medicine (NMHM).  The human brain MRI images were derived from the Allen Brain Atlas, an online resource devoted to human brain research, founded by Paul G. Allen.  We compiled a set of coronal brain sections for 65 different species (mammals), and renamed the files so that when sorted by ascending name, they progress rostral to caudal.  The image database is contained in a folder called "Mammals" and is zipped (compressed) here, so be sure to extract the file to access this folder.
Download the zipped image database now:
(02)  Download CNA Tutorial
Download the Comparative Neuroanatomy tutorial now:
(03)  Download CNA Demographic Information
***Note that this file is already included in the Image Database.***
Download a spreadsheet of demographic information (including section scale, thickness, and interval, and average species body weight) for the Comparative Neuroanatomy now:
(04)  Download the Statistical Analysis Software, JASP
JASP is a simpler and free alternative to SPSS, and R. Bayesian statistics.
Download JASP now:
JASP            UPDATED on 2017-05-17 at 10:35am
(05)  Download Sample Data
Download the Comparative Neuroanatomy practice data now:
(06)  Download Analysis of Slope Differences Tutorial and Templates
Download the tutorial for analyzing slope differences among order categories (Primates/ Carnivores/ Others).
Download the spreadsheet templates for calculating the differences.
(07)  Download Lecture and Lab Slides
Download presentation slides used to teach the Comparative Neuroanatomy module.  This is typically taught in two weeks, with one lecture and one lab each week:
Faculty members interested in accessing faculty-related materials will need to obtain approved access. While we are still developing this website, please email natalie@psych.ucla.edu or wgrisham@g.ucla.edu using the email listed in your institution's faculty directory so that we can verify you as an instructor.  Please include your first and last name, and the names of the modules you wish to access.
Publications
Need Help?
Email natalie@psych.ucla.edu or wgrisham@g.ucla.edu (with "Comparative Neuroanatomy Module" in the subject line).
License Information
Modular Digital Course in Undergraduate Neuroscience Education—Revised: Gel Scramble by Dr. William Grisham, Ph.D., is licensed under a Creative Commons Attribution-Noncommercial-No Derivative Works 3.0 United States License.