Free and complete software providing experience with the anatomical and physiological bases of fear learning in a computer-simulated rat.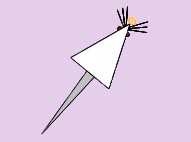 FraidyRat is an instructional tool for teaching neurophysiology that requires only a computer.
–>  The FraidyRat program is more thoroughly described here:
FraidyRat Files
Students and Faculty can download the FraidyRat Program and FraidyRat Tutorials for free.
NOTE:  FraidyRat is currently available for both the Mac OS and the Windows OS.  The animation functions in the Mac version are not as strong as it is in the Windows version, but this will not affect the function of the program.
(1)  Download the FraidyRat Program:  In order to download the FraidyRat program, you must first fill out the User Consent/Download Questionnaire (after which you will be directed to the download button).  Note that you will still be allowed to download FraidyRat even if you choose NOT to consent to anything.
–> For more specific download/install/run instructions for both Mac and Windows program, consult the FraidyRat Program Readme file, which contains hyperlinks to the downloadable program files.  Download times are roughly 1-5 minutes, and unzipping time can take about 10-15 minutes.  Be patient!
[Note that computer processing speed is much slower when in a virtual meeting.]
(2)  Download the FraidyRat Tutorials:
For Faculty    
*** UNDER CONSTRUCTION ***
Faculty members interested in accessing faculty-related materials will need to obtain approved access. While we are still developing this website, please email natalie@psych.ucla.edu or wgrisham@g.ucla.edu using the email listed in your institution's faculty directory so that we can verify you as an instructor.  Please include your first and last name, and the names of the modules you wish to access.
(1)  Learn about FraidyRat as a teaching tool.
Need Help?
Email natalie@psych.ucla.edu or wgrisham@g.ucla.edu (with "FraidyRat Question" in the subject line).
License Information
Modular Digital Course in Undergraduate Neuroscience Education—Revised: FraidyRat by Franklin B. Krasne is licensed under a Creative Commons Attribution-Noncommercial-No Derivative Works 3.0 United States License.